Little Black Dress Initiative
LBDI Week: Sunday, October 15 – Saturday, October 21, 2023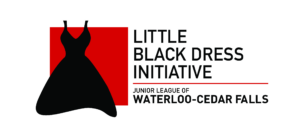 Founded in 2014 by the Junior League of London, #TheLBDI is a social media-driven awareness campaign and fundraiser. Participants wear one black dress (black t-shirt) and a branded button for 5 consecutive working days to:
RAISE AWARENESS

of our League's focus, Positively Impacting Teenagers, specifically highlighting the difficulties facing those who are in need and have few resources;

UNDERSTAND

how limited resources affect daily life; and

OFFER AN OPPORTUNITY

for our network to donate in support of the Junior League of Waterloo-Cedar Falls and our mission of training volunteer civic leaders and our development of community programs such as Wrapped in a Hug, League's Lockers, Prom's Closet, and so much more.
Show your support of the Little Black Dress Initiative with a donation!
Check out our Silent Auction which begins at 12:00am on Sunday, October 15 and Closes Saturday, October 21 at 12pm.
Check out a preview of items now!


Ticket Sales have ended for this event.
Little Black Dress Initiative Luncheon
Thursday, October 19, 2023
11:30am-1:30pm, doors open at 11am
Waterloo Convention Center
Featuring: 
Hanna Nuss, Speaker
Hanna is the founder of Local., podcaster, and author. She will focus on the field of opportunities in Iowa and the possibilities in rural communities.
Contact jlwcfmarketing@gmail.com with questions.