The Junior League of Waterloo-Cedar Falls Presents the Little Black Dress Initiative!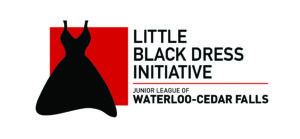 Founded in 2014 by the Junior League of London, #TheLBDI is a social media-driven awareness campaign and fundraiser. Participants wear one black dress (or outfit) and a branded button for 5 consecutive working days to:
RAISE AWARENESS of our League's issue (Positively Impacting Teenagers) specifically highlighting the difficulties facing those who are in need and have few resources;
UNDERSTAND how limited resources affect daily life; and
OFFER AN OPPORTUNITY for your network to donate in support of the Junior League of Waterloo-Cedar Falls and our mission of training volunteer civic leaders and our development of new community programs.
You can help make this new program a success by attending one or both of our inagural year events.
The Little Black Dress luncheon, occuring Tuesday, September 17 at the Elks Club in Waterloo will feature nationally known non-profit trainer Vicki Clark speaking on "Servant Leadership."
The Little Black Dress Ball, Friday, September 20 will be held at the Diamond Event Center in Cedar Falls with music provided by Ultimate Entertainment, wonderful food and drink and an amazing silent auction!