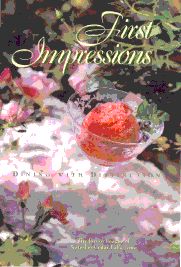 First Impressions
This treasury of culinary delights is a feast for the eyes as well as the palate. Delicious recipes combined with creative preparation and presentation ideas will turn an elegant evening or everyday meal into a memorable event. Stunning color photographs of featured recipes will tempt your taste buds. Breath-taking scenic photographs and brief narratives capture the unexpected beauty of America's heartland. In the kitchen or on the coffee table, First Impressions will make a lasting impression.
Features include:
•An eclectic mix of more than 250 taste-tested recipes
•Tips on cooking techniques, table settings, decorating, etiquette and more
•Stunning full-color food photographs
•Beautiful hardbound 9″ x 10″ cover with color photography
First Impressions is the third cookbook produced by the Junior League of Waterloo-Cedar Falls. The financial success of previous cookbooks has enabled Junior League to significantly impact the quality of life in the Cedar Valley. Proceeds from the sale of First Impressions will be used to further the mission of the Junior League of Waterloo-Cedar Falls.