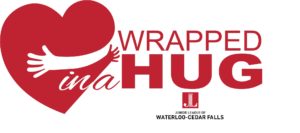 The Junior League of Waterloo-Cedar Falls is introducing a new community impact project called "Wrapped in a Hug"! With this project, JLWCF members will create tie-blankets to provide comfort and warmth for teens in the Cedar Valley. The blankets will be distributed to teens and children at Four Oaks, the Boys & Girls Club Teen Center, Allen Child Protection Center, Waterloo East High School, Waterloo West High School, and Cedar Falls High School. With each blanket, a list of mental health resources for teens will also be provided. Our aim is to provide some peace to teens during this time of increased stress and uncertainty due to COVID-19.
The Junior League of Waterloo-Cedar Falls is seeking individuals or groups who are interested in sponsoring a blanket for a teen in the Cedar Valley. Sponsoring a blanket would cover the cost of materials to make a blanket and help fund the overall cause of the Junior League of Waterloo-Cedar Falls community impact projects. The cost to sponsor a blanket is $20. JLWCF gladly accepts cash, check, or direct payment via our website www.jlwcf.org.
Our goal is to make 200 tie-blankets and have them distributed to local teens by the middle of March 2021.
Please email JLWCFCommunityimpact@gmail.com for any questions about the project or to sponsor a blanket.